With Season 7 Premier just days away I wanted to give some thoughts on how Season 6 Finale ended. I assure you this commentary has not been expressed in other reviews, and is a sure fire sign why diversity in the writing room matters.
As I watched the final scene, you know the one, starting at 47:00 minutes into the episode where the whistling starts as Rick and his crew are desperately trying to get a very ill Maggie medical help. As they scurry in the dark lights come on from different angles with images of cars, men, and guns. After the camera does a 360, the audience learns with the crew that they are completely surrounded and in deep ish by 48:00 minutes into the episode.
In that moment I was undecided if I was going to watch Season 7. I was actually mad at the show. The post apocalyptic world looked too much like the current patriarchal world that we currently live in. I mean I could watch people, men, women, and children survive by slaying undead zombies for survival. But this season was more about how the survivors dealt with each other ending off with the face of much awaited Negan, but he was leader of what visually was an all male wrecking crew with no morals or scruples. Looking at that scene as Rick and his people were on their knees at the mercy of Negan and his band of Neanderthals – all I could think about was the film Hotel Rwanda. At the end of that film I believe there was a statistic given that at the time of the Rwanda genocide the male to female ratio was something like 10 males to every one female. That is what this scene looked like to me. In Rwanda with the dominance of all of that male energy One Million people were slaughtered. And now here we are with a barb wire wrapped baseball bat and a group of men, women, and one teenager on their knees with one of them about to get slaughtered by King of the Crazies, Negan. And in this band of Crazies no one, not one of the men step forward to stop the madness.
Then Negan defers to Eeny, Meeny, Miny, Mo – he might have well said the old verbage of pick a Nigga by the toe, because they were in the woods and might as well had been hunting Rick and his crew like they were a group of run away slaves. The ending of this Season made me think that Season 7 was going to be more unveiling of the already existing male dominated world that we currently live in, needing only to turn on the nightly news to see the effects of humanity in an unbalanced world. I do not know if I can sign up for that AMC.
This scene may have been the death of a loyal fan.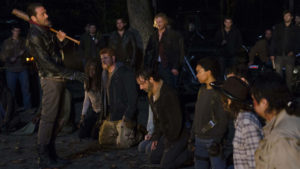 Unapologetically,
Friday
Twitter @IAMFridayJones
Facebook The Real Friday Jones